Fun Collaboration with Bali Celebgram Tabitha Budiman!
12 Jan 2018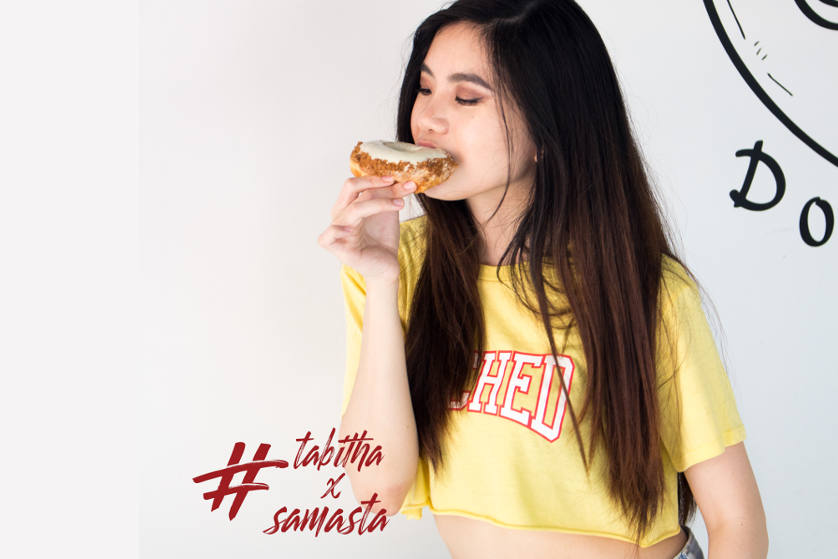 As part of the effort to create Samasta as the youth place in Jimbaran, we had a visit from the beautiful Tabitha Budiman, one of the most prominent Bali influencer known also as selebgram, fashion and lifestyle blogger. She made her time well spent at Dough Darlings and enjoyed some of their most yummy and instagrammable signature doughnuts also known as white choco specullos and milk chocolate oreo doughnuts. She even got behind the counter to serve some doughnuts to the customers with her infectious smile which made the experience even more sweet and unforgettable to the people who were lucky to see her there!

All the fun moments will be documented on her Instagram feed @tabithabudiman and our very own @samastabali complete with a quiz for her followers to get a chance of winning shopping vouchers at Dough Darlings Samasta Bali worth IDR 200K per winner. Pay attentions to the details, as the quiz will start at January 12th until January 18th. Dough Darlings itself opened in the end of December 2017. Dough Darlings are also very creative in coming up with the names and flavors of their fine quality doughnuts - there are over 20 varieties of these darlings! Let us tease you with some of the names to make your mouth drool: the classic cinnamon sugar, chocolate melted bomb bomb, thai tea cream brulee bomb bomb and salted caramel milky almond doughnut. All freshly made everyday.
Wait no more and get the chance to get the doughnut for FREE!